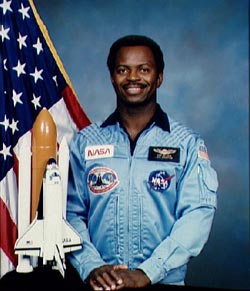 Ronald E. McNair, an African-American engineer, scientist and Challenger Astronaut, was born on October 12, 1950, in Lake City, South Carolina. McNair was the son of an auto mechanic. His perseverance in the face of poverty and prejudice led him to successful completion of his bachelor's degree, magna cum laude, in physics from North Carolina A&T State University in 1971. Five years later, at age 26, he earned a Ph.D. in physics from the Massachusetts Institute of Technology.
Dr. McNair became a nationally recognized expert in laser physics while on the staff of Hughes Research Laboratory and received many honorary degrees, fellowships and commendations. His achievements were not limited to academia. He was a fifth-degree black belt in karate and was an accomplished saxophonist.
In 1978, Dr. McNair was selected for participation in NASA's space shuttle program and became the second African American astronaut in U.S. history. He served as a mission specialist aboard the space shuttle Challenger and died along with the rest of its crew when the space shuttle exploded nine miles above the Atlantic on January 28, 1986.
The McNair Scholars program is dedicated to preserving Dr. McNair's legacy of scholarship and accomplishments. The UC Santa Barbara McNair Scholars Program is fully supported by the Office of the Executive Vice Chancellor and the deans of the College of Letters and Sciences and the College of Engineering.
Click on image for link to Ronald McNair StoryCorps video